Categories
Simagic wheelbases


Loading...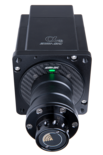 Simagic Alpha Mini
The entrylevel direct drive from Simagic
The Simagic Alpha Mini
Faster response with lower inertia integraded with outstanding features from the Alpha Family

Discover the 10 Nm servo motor from Simagic and enter a world of details never seen before. Benefit from an optimization of the incoming signal for a precise and crystalline force feedback thanks to AI (artificial intelligence).
Servo motor for maximum smoothness
Maximum torque 10 Nm
2.4 GHz WLAN connection
Compact optimized design (110 x 167 mm)
Advanced configurations via SimPro Manager
Dedicated AI for force feedback optimization
Advanced compatibility with Simagic peripherals
(sequential gearbox, pedal, handbrake ..)
Calculate up to 40,000 force feedback frequencies per second
Data transmission up to 1 kilohertz
New generation of physics-based friction models for unprecedented force feedback authenticity
Exclusive setting for drift and rally modes
Minimum static force 0.01 Nm (for unprecedented smoothness)
Looking for Simagic software or manuals? Check our help center!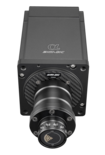 Simagic Alpha
The Alpha comes with 15Nm of torque, delivered by a Servo Motor.
The Simagic Alpha has FFB & Damper dial access on the fly while driving and its own bespoke software to dial-in your settings to your own personal preferences.
Settings can also be saved into multiple profiles so you can create different profiles for drift, race and rally...or whatever you want!

Technical Specifications:
Maximum torque: 15Nm
1 ms Response
15 cm length
3 CPU Tri-core acceleration Smart Base
Aluminum Enclosure
3-phase Servo Motor, designed by Simagic
Refresh rate: 1.000 Hz for buttons, 40.000 Hz for Force-Feedback
PC-only
Looking for Simagic software or manuals? Check our help center!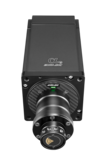 Simagic Alpha Ultimate
Born for the Simagic Alpha Ultimate Ultimate and Hardcore Sim Racing Experience.
Discover the new Simagic Alpha Ultimate direct drive wheel base!
Alpha U technical specs:
Motor Type Custom 5-pole servo motors
Peak Torque 23 Nm
Encoder Resolution 262144 ppr
Processor Frequency 200 MHz
Response Rate 40 MHz
Simagic Kill Switch Included
Power Supply 360 W
Building Materials Aluminum Alloy, Carbon Fiber
Dimensions 26mm x 110mm x 110mm
Mounting Holes M6 X 4 Threaded Holes
Looking for Simagic software or manuals? Check our help center!